A father and son have asked for help to beat a unique boxing challenge after losing a loved one to suicide.
Dave Thompson and his son Will, 18, want to raise awareness for Mentell, a mental health charity for men, by getting the public to take part in completing 5,583 boxing minutes of exercise on punch bags within 24 hours.
Dave said: "That number is significant because in 2021, 5,583 people in England and Wales lost their lives to suicide.
"And one of them was our son, George."
Just 18 years old, George Thompson was popular, handsome, did well at college and was working as a builder. He enjoyed MMA, boxing and following his beloved Stockport County FC home and away.
Dave, a sports photographer, his wife Caroline and Will, two years younger, had supported George, who struggled with his "thunderstorms" from the age of 15.
He had first expressed that he needed help when he was 10 during the build-up to his primary school Sats exams.
Dave said: "When George was 15, I heard him crying and I sat with him on his bed and we went through everything.
"Is it the police? Is it school? Have you had a fight?
"Have you done something the teachers are going to ring us about?
"Is it a girl? Is it a boy?
"Is it smoking? Is it drugs? Every possible thing as a parent you would ask."
"Eventually he just said, 'I want to kill myself'. That was the last thing I expected him to say."
One October morning three years later, George left work early and ended his own life.
Dave describes a parent's grief for losing their child to suicide as "almost unbearable", but he initially did not score enough points for NHS counselling, with a wait of up to 12 weeks for help.
"I don't know what I would've done in that eight to 12 weeks of just having to wait," Dave said.
"I always said I would never do anything, like the ultimate, I would never do what George did because that's not fair on Caroline and Will.
"It was just a constant battering rod of just hitting me, battering me down and down and down.
"In the end, a Stockport County fan – a friend of mine – recommended Mentell."
Set up by five friends on Facebook who recognised the need for somewhere for men to be able to go to talk, they first met in a scout hut.
A charity was formed in 2017 and now six "circles" are operating each week in Congleton, Crewe, Macclesfield, Wilmslow, Chester, Hyde and at Stockport County FC's Edgeley Park ground, a club the Thompson family say have been a huge support to them since George's death.
Men sit in a circle and, if they want to, talk about what is on their minds or just listen to other men. Nothing leaves the circle, everything is in the strictest confidence. Any men 18 and over can attend, there is no pressure to talk.
Afterwards, an email is sent asking if you want a seat saving for next time.
"Whatever problems that men have you can discuss at Mentell," Dave added.
"Because men notoriously do not speak do they?
"Because if he goes somewhere where he's talking and he's comfortable talking, then that potentially is going to save his life and that is the most important thing.
"I knew I needed to talk. I knew I needed to go somewhere and I'd never really understood the benefit of talking people who aren't your family."
Of the 5,583 suicides recorded in 2021, three-quarters were male.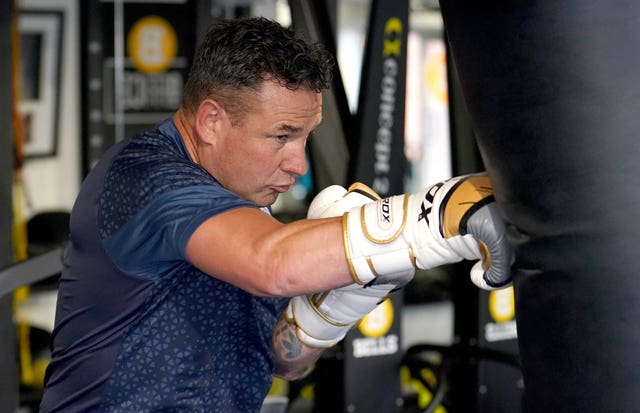 In 2021, the suicide age-standardised mortality rate for males in England and Wales was 16.0 deaths per 100,000. For females it was 5.5 deaths, figures consistent with rates between 2018 and 2020.
The boxing challenge has smashed its £250 target to raise funds for Mentell, donations currently are at £1,700 but Dave and Will encourage anyone to help reach their target of 5,583 minutes.
"They can be any age from three to 93, they can come and do one round, 10 rounds whatever. It all counts towards the total," Dave said.
"We want people to come along who have no boxing experience. Doesn't matter. Whatever level of boxing experience you've got, come along.
"Someone said to me, 'Is it the hardest thing you'll ever do?'
'No, living without a son is the hardest thing you'll ever do. This is a walk in the park."
The boxing challenge starts at 2pm on August 13, at Bell's Gym, Denmark Street in Altrincham, Cheshire.
Mentell can be contacted via https://www.mentell.org.uk/
Donations can be made at www.justgiving.com/page/24hourboxathon